Look around you right now. What do you see? I'm in my living room where I see children's furniture, toys, and books, wooden furniture, an acoustic guitar, a stereo, a tiny TV, a few hundred CDs and a handful of DVDs, books on shelves. There's a fair amount of wood and plastic.
Plastic is everywhere. Grocery store? Plastic everywhere from bottled water to the bags we put things in to the individual wrappers for the fruit snacks or candy bars to peanut butter jars to kitty litter bags. Your car? Plastic. Computer? Plastic. Toys? Plastic.
Most of us take plastic for granted. But people in places like Corpus Christi suffer the ill effects. The
Natural Resources Defense Council
has reported that children born near chemical plants, refineries, and incinerators are much more likely to be born with a wide variety of birth defects than children in comparable communities. Similarly, adults in these areas are more likely to develop cancer and immune-compromising chronic or terminal diseases, leading to the term "cancer cluster."
Consider climate forcing impacts on climate change. In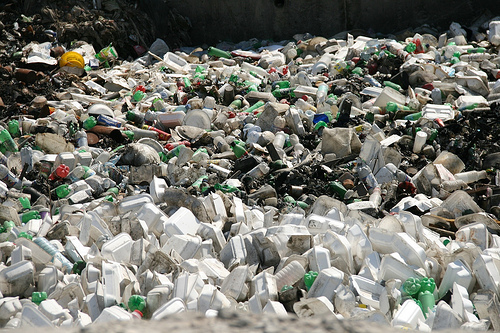 2007, the
EPA
reported, "CO2 emissions from incineration of waste (20.8 Tg CO2 Eq. in 2007) increased by 9.8 Tg CO2 Eq. (90 percent) from 1990 through 2007, as the volume of plastics and other fossil carbon-containing materials in the waste stream grew." We know that from 1990 to 2007 time single-use plastic water bottle use has at least doubled.
World Watch
reported that from 1997 to 2005 the market's volume doubled to 164 billion liters.
PR Inside
estimated that the volume increased to over 174 billion liters in 2011, though public awareness campaigns, bans, and the economic downturn could disrupt this trend. Nonetheless, billions of single-use plastic water bottles in the U.S. have ended up in landfills. [Image courtesy of
Huff Post Green
.]
And we have the famous expanding garbage patches in the oceans. The most famous is featured in this video of the patch in the North Pacific Gyre.
What an incredible mess.
I myself have been quite active on this issue over the years. As the former president of 3E-COE, I worked with students and the Office of Physical Plant to work on reducing Penn State's plastic water bottle use. Those bottle-filling stations around University Park campus (now over 20 of them) came about because of that collaboration (read about the clubs work on
water
and
plastic bottles
).
Some people are taking steps to change all of this and we will talk to them today at 4 pm.
Ben Bezark works for the
Plastic Pollution Coalition
on the Plastic Free Campuses program. PPC seeks to "end the global dependence on disposable plastic, the primary source of plastic pollution" and "reduce the overall global plastic footprint for individuals, businesses and organizations." And students at University of Vermont are doing just that. Gregory Francese will join us mid-show to tell us about their incredible work to
ban bottled water there
. Last, but not least, we will be joined by Jennifer Wagner-Lawlor, professor of Women's Studies at Penn State who hosted a TEDx event at Penn State last year on plastic pollution.
As always, listen in on your local dial at 90.7 fm or
stream us online
. Call in with questions or comments: (814) 865-9477.